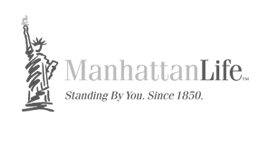 Contracting Instructions
Below is the link to contract online with ManhattanLife. Please select all entities when completing the online contract.
In addition to completing the online contracting, you also need to sign this commission agreement and this producer schedule and return via email to our Contracting Department at contracting@na-insurance.com or fax at 469-362-1314. You will not be paid by ManhattanLife unless the commission schedules are returned.
Additionally, if you wish to receive advances, you will need to complete the advance agreement and return along with the schedules.
You must have E&O coverage in order to get contracted.
If you are with an agency and want to assign your commissions and you are not the principal of the agency, please DO NOT complete this contract using this link. The principal of the agency must complete the contracting first and then ManhattanLife will need to create special links for you. You may contact our Contracting Department at contracting@na-insurance.com if you have further questions.
This ManhattanLife contract does not include Medicare Supplements as they are two separate contracts. You can get contracted with ManhattanLife for the life/health products even if you have a Med Supp contract. If you are currently appointed with ManhattanLife for life/health, you will need to obtain a release if you have written new business in the last six months or have gotten contracted within the last six months.
If you have any questions, please contact the sales department at (888) 362-1214.